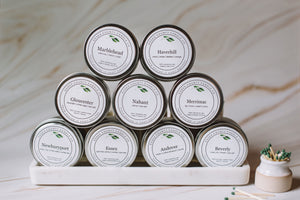 Essex County has over 40 cities and towns and yes, we have a candle for every one!  Have you ever wondered the story behind each candle's unique fragrance?  Our area's rich history offers beautiful historical scent memories reflected in the candles themselves, and you may find a full listing with fragrance blends here.
Variations in the look and texture of the wax will very from candle to candle, but they are not considered defects nor will they affect how it burns.  
100% natural US-grown vegan soy wax
chemical-free fragrances
lead-free all-natural cotton wicks
orders are hand blended just for you; they ship within 3-5 business days
 Wholesale + bulk orders please message me.